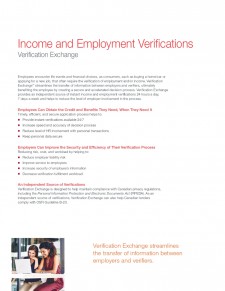 Introduction to Verification Exchange
GUELPH, Ontario, July 8, 2019 (Newswire.com) - PSII is pleased to announce a new partnership with Canada Workforce Solutions, a specialized division of Equifax Inc. (NYSE: EFX). Through the partnership, employers using PSII payroll solutions will also have access to the Equifax Verification ExchangeTM service which automates income and employment verifications for organizations needing to verify the information. This new value-added service will be available at no additional cost to all PSII employer customers and to their employee populations.
"The availability of Verification Exchange through payroll providers like PSII helps to close a gap in the Canadian marketplace," commented Michael Cote, President & CEO of PSII. "We're pleased to be able to offer our customers the ability to automate verification requests, from mortgage and auto lenders, social service agencies and pre-employment screeners."
Credentialed verifiers require confirmation of employment and/or income as part of their application and qualification processes. An automated service like Verification Exchange helps reduce the risk of fraud for all parties involved, replaces paper-based information and eliminates unknown callers looking to verify the information. Verifiers with a permissible purpose and consumer consent can verify information on the database instantaneously, 24 hours per day, seven days per week.
Verification Exchange helps PSII customers remove the administrative burden for HR and Payroll teams of confirming incoming verification requests and producing the requested documentation. Ultimately, Verification Exchange can help Canadians in their daily lives, allowing for important financial and benefit decisions to be made quickly, efficiently and without the need for HR involvement.
ABOUT PSII INC.
Payroll Solutions International Inc. (PSII) is a Global Payroll Management firm based out of Guelph, Ontario, Canada revolutionizing a new generation of Payroll, Time & Labour Management, and Human Resources all tied together in one package with a powerful approach: Globality. Together with our global partners, we leverage more than 75 years of experience. Our innovative and integrated approach provides multi-language, user-friendly, web-based software systems; all available through any PC, mobile and tablet device. Our easy software implementation will support your entire organization and management needs anywhere in the world. To learn more, visit Psiint.ca and follow company updates on Twitter and Facebook.
ABOUT EQUIFAX INC.
Equifax is a global data, analytics, and technology company and believes knowledge drives progress. The Company blends unique data, analytics, and technology with a passion for serving customers globally, to create insights that power decisions to move people forward. Headquartered in Atlanta, Equifax operates or has investments in 24 countries in North America, Central and South America, Europe, and the Asia Pacific region. It is a member of Standard & Poor's (S&P) 500® Index, and its common stock is traded on the New York Stock Exchange (NYSE) under the symbol EFX. Equifax employs approximately 11,000 employees worldwide. For more information, visit Equifax.com and follow the company's news on Twitter and LinkedIn.
Media Inquiries:
Dalton Stern
Phone: (519) 822-4321
Email: dstern@psiint.ca
Source: Payroll Solutions International Inc.
Share: